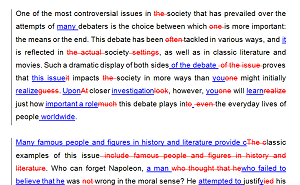 A lot of people don't understand why proofreaders and editors exist; after all, English isn't really that important, is it?  Well, this common misconception is just that, a fallacy about how important the process is.  But, I believe it's down to the fact that most people just don't understand the process and many ask what is proofreading?
Proofreading, or 'copy checking', originally referred to newspapers, where an editor would take typeset paper and check the text for errors against an original manuscript.  These days, even in newspapers and magazines, which often have their sub-editors proof on screen, it's all done digitally.  Two printed resources are rarely checked against each other.  The notion of the activity itself is designed to address both issues of content and visual consistency.
Proofreading & Academic Work
In terms of student work, one takes an overall view.  Proofreaders haven't studied the subject themselves so trust that the author has composed their arguments having been given the correct teaching, has understood the subject and disseminated the information correctly in response to the question, brief or task.  There are various reasons for employing a proofreader.  A great deal of the work I complete is submitted by foreign students and, frankly, they're all pretty clever, otherwise they wouldn't have been funded or sponsored by their families, government or educational institution to even study abroad.
English as a Second Language
But, as anyone learning a foreign language will tell you, the differences between written and spoken language are vast.  If a student has a poor command of written English they may have a full understanding of the spoken language.  As such, even if they speak English perfectly, they may lack the skills to compose an essay, thesis or dissertation with the requisite flow or command of the English language.  On the other hand, even if they have difficulties speaking English you may get a beautifully written piece that simply needs a minimal edit.  At times, I've talked to clients and complimented them on their spoken English skills then received a mess.
Or sometimes I've struggled to understand what they need over the phone or over email and then received a piece of work full of life and ideas that needs simply shaping.  In short, there's no way to predict what work is coming at you and the author's spoken English skills may be misleading.
Proofreading Isn't Appreciated By Most
Proofreading is a rather under-the-radar industry.  Most people don't realise that we even exist, or that it's a job at all, and if they do consider that proofreaders exist it's often assumed that we're rewriting entire pieces of work, or even writing them from scratch, and it's our voice that the lecturer hears when marking the piece.  While there certainly are students getting so-called proofreaders (it's in the title, or we'd be called proofwriters!) to write their assignments for them, the practice is rare and I've personally never been asked to do it, though I do know it goes on.
The line of acceptability is for each person to decide upon but, personally, I wouldn't accept a complete rewrite job. I've had pieces that need a little edit, just for grammar, spelling, context, flow, structure and so on.  But I've also had pieces where the student clearly understands the subject, and their ideas are present, but they simply don't have the colloquial and written skills to convey their opinions, which is where I step in.
When you're presented with a piece of work there's an overall aim that you're trying to achieve.  The obvious stuff goes first: double/incorrect spaces, poor spelling, correct use of citations and quotations, and visual consistency – this means that the headings, subheadings, paragraph spaces, line spaces, formatting, and so on, should conform identically on each page.
Sometimes you're working to a set of rules, such as Harvard referencing, or the somewhat similar  MLA referencing, or even, if you're writing within a social sciences field, APA referencing.  These reference guides cover both the main content and how to write the references/bibliography.  Personally, I enjoy proofing the references at the end and am always a little disappointed if there aren't any!
Then, of course, there are international differences within the writing itself.  A fair amount of the work I do is in British English, with its colours and favourites. Then there's American (and Australian) English with its colors and favorites.  There are an infinite number of options, combinations and styles that often vary not just within the author's remit but also from university to university, or college to college.
The Proofreader's Role
As such, the reasons for employing a proofreader are clear to see.  Firstly, one cannot check one's own work.  Before becoming a full time proofreader I was an office manager for two organisations – an adult magazine and a design agency – and on both occasions proofreading was a large part of my remit.  I learned my trade over a period of 10 years and, let me tell you, given the subject matter that's been past my gaze: I've seen it all.
I've proofed thousands of pieces of student work, a chick-lit book, a ghost-written footballer's autobiography, marketing plans by the ton, email newsletters, menus, posters, financial reports, brochures, interviews, reviews, news, and erotica.  But I learned very early on that you cannot proofread your own work.  You simply won't see the errors when you're the author.  In those days I was proofing on paper, with a pen, imagine that!  It was rather old school and I was able to develop my craft comparing printer's proofs.  With such endless practice, and learning under a renowned editor with 25 years experience, my eyes simply adapted and trained themselves to spot discrepancies.  Which brings me to another issue about proofreading – no, not everyone can do it!
You've Already Proofed it Yourself? Think Again
I've lost count of the amount of clients who have told me that, even though they're employing me to do the job, it shouldn't need much work doing on it because one of their mates had already proofed it.  Without fail, I'm greeted by a piece of work that you would never guess had had a checker before I started. Aside from the fact that you need a natural gift for English, there are endless factors that must be taken into account.  Certainly, someone can be taught to proof, take courses, gain qualifications, but there's no way to learn the feel for words or the extreme eye for detail.
You don't just need proofreading because you've written it and you won't be able to see the errors.  You don't just need it because getting a mate to do the job isn't enough.  You need it because the people who do this for a living know what they're doing and have done thousands of pieces before, of all kinds, of all competencies and on all subjects.  After the work is submitted one can't help feeling happy and satisfied when a client emails back saying they can't believe the difference, they can't believe that they didn't employ a proofreader before and that their arguments, ideas and thoughts and have emerged from the mist in a way they didn't think was possible.
Maybe after reading the above you will understand what proofreading actually is and why it's an important step in writing (or indeed publishing) any written material, from dissertations/theses to business white papers, or that manuscript you've been pouring your heart into.  Proofreaders know their stuff and want to help you produce written material that captures the mind of your reader, even if that's a professor marking your dissertation.