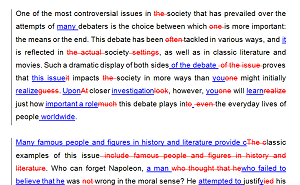 A lot of people don't understand why proofreaders and editors exist; after all, English isn't really that important, is it?  Well, this common misconception is just that, a fallacy about how important the process is.  But, I believe it's down to the fact that most people just don't understand the process and many ask what is proofreading?
Proofreading, or 'copy checking', originally referred to newspapers, where an editor would take typeset paper and check the text for errors against an original manuscript.  These days, even in newspapers and magazines, which often have their sub-editors proof on screen, it's all done digitally.  Two printed resources are rarely checked against each other.  The notion of the activity itself is designed to address both issues of content and visual consistency.
Proofreading & Academic Work
In terms of student work, one takes an overall view.  Proofreaders haven't studied the subject themselves so trust that the author has composed their arguments having been given the correct teaching, has understood the subject and disseminated the information correctly in response to the question, brief or task.  There are various reasons for employing a proofreader.  A great deal of the work I complete is submitted by foreign students and, frankly, they're all pretty clever, otherwise they wouldn't have been funded or sponsored by their families, government or educational institution to even study abroad. [Read more…] about What is Proofreading?