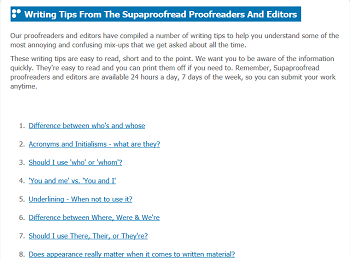 You will see that we are constantly updating the supaproofread.com site with new and interesting content. We've just added the writing tips section, which provides hints and tips for writers, whether you're writing for business, academia, yourself or your employer. These tips range from 10 tips to proofreading you paper to the main differences between American and British English. More writing tips are due to be added in the coming months, so keep track of the lastest news and information by clicking on one of our RSS feeds to the right. Alternatively, if you don't have an rss generator, just click on the link get the Supaproofread RSS Feed to get the RSS feed for your own program.
If you just want to display the feed on a drop down menu, so you can check any new posts on the blog when opening IE or firefox, then simply click on the XML version of the feed and select live bookmarks to provide you with changing and current information.
If you do have any questions on this, then please leave a comment.