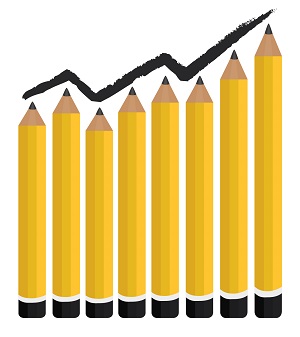 Blogs are a steady source of income for a new writer
A blog is an online diary crossed with a dynamic web page and the word "blog" is actually a contraction of "web log". The practical result is a web site that allows a user to post their content and at the same time use web site functionality. A blogger can include links to other web pages, insert pictures, audio and video as well as a host of other features without the need for specialist web programming knowledge. From a commercial perspective, company and marketing blogs are the primary tool for promoting websites which need fresh, updated content on a regular basis.
They offer a great opportunity for novice writers to cut their teeth and earn a regular income at the same time.
My initial writing projects consisted of short articles, usually no more than 500 words long; however, once you have completed a batch of articles that's it, you're back to square one looking for the next paying project. A blog needs updating frequently, usually on a daily basis, so there are plenty of opportunities to post to blogs for a weekly or monthly fee. I quickly latched on to this and now I regularly post to a stream of blogs that form the core of my writing income and provide me with some financial stability. We're now going to take a look at setting up a blog for you, as a showcase for your services and your work which will also get your hands dirty with blogging.

There are two main blogging platforms, WordPress and Blogger, the latter is a Google product while Supaproofread's blog is run on the WordPress platform. You could choose either software to setup your blog. Matt Cutts, who works for google, chooses to use WordPress to power his blog. Both programs are very simple to use and it will pay you dividends to become familiar with each, setting up an account is free and simple to do. Blogger is probably the easiest to get to grips with even if you are a novice, but, with a search of some popular blogs on seo (Search Engine Optimisation), such as www.seobook.com and www.problogger.net you can easily understand what can and is readable on a blog.
You will need a Google email account to register with blogger, so go to Google's home page and register. After you have a Gmail account, sign in and select Blogger in the menu of services. You'll be taken through the registration process, which will take only a few minutes. Once in the Blogger platform, you will be asked to create a blog, so choose a blog name, (one of mine is The Biz Blogger, which pretty much describes what I do). Select a template that you're happy with and explore the various add-ons you want to apply. Take some time to experiment with the template and don't worry about trying new features as you can always reverse direction and change things very easily.
Once you have set your template up you are ready to publish it to the web, which is simply a case of pressing the button. You are now ready to start posting and uploading samples of your work and this will create an online showcase for your services. The cost to you is "zero" just a little time and the process of setting up your blog will give you "blogging experience" to add to your service offering when bidding for work.
If you're currently writing on your own blog (or you want to start) then why not checkout our page discussing blog writing tips to help you excel and beat those gremlins that you have. It really isn't as difficult as you think. Or, if you're really stuck and the above article comes across as a little too complex then take a look at the video below, which was produced by How Cast.
.