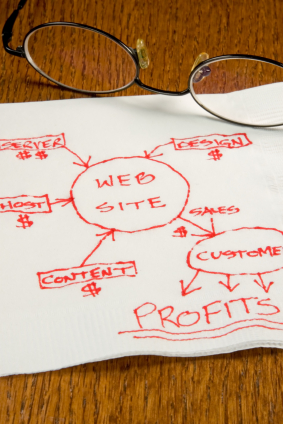 Making money from websites is a serious deal. Successful websites know the customers they have in mind and the questions they need to answer to get a customer base. Good websites have a mix of good graphic content and written material that answers visitors questions. Visual imagery should not be used without it meeting strategic needs to communicate the solutions to questions of its audience; building an audience is necessary. The key to having an audience is to create a website about something that you know a lot about and share your information, ideas, pictures, photos and passion.
Clear information in your content
Websites often make the mistake of putting too much information that results in nothing but junk. What is important is not the length of the content but the content quality itself. So, it is often better to have less content and have a concise site, rather than having lots of junk and an ad bloated site. It's imperative that you write excellent copy on your website that is effective at communicating your message online. But, pleasing your online clients and audience is not the only thing you have to consider.
Pleasing search engines
You also have to please the search engines, because search engines bring you traffic, which in turn increases the amount of customers. When people use search engines they enter keywords to find your content. This means that you need to use words, which people search for as part of the content on your site. And you need to use these words prominently on your page. Remember that keywords in your HTML coding are NOT enough. You need to make your site attractive, providing great content so it becomes "popular".
The correct promotion of your site and content
The key to making money from websites is through correct promotion. Promoting your website can often seem overwhelming, but if you keep focus then the path becomes easier. Make up a great title for your webpage and be descriptive. When visitors see your site in the search result listing – those first five words grab their attention and influence them to come visit. Compare the idea of your title to real titles that show up when someone searches for your site and ensure your website is user friendly. Everyday I come across websites which are so damn hard to use and navigate and a generally don't give them a second look. Make sure website labels are clear, consistent and legible. Make sure you use a pyramid style of writing, as this helps visitors to smoothly go through your website. And let's not forget a thorough proofread of your website's content.
The search for advertisers and affiliates
Finding advertisers and affiliates is important for a website to function. Optimize your site so it's easy to add programs and advertisements; it's important to assess your own website. Keep a list of answers to the following questions: Is your content in place? Do you have traffic and a promotion plan? How many page views do you have per month? Who uses your website, what are they looking for and what might they respond to in an ad or affiliate program. How much time do you have to spend on developing the website?
If you have answers to the above mentioned questions, then you can be rest assured that you are on your way to making money from your website, but how much is going to be related to the amount of effort you put in.