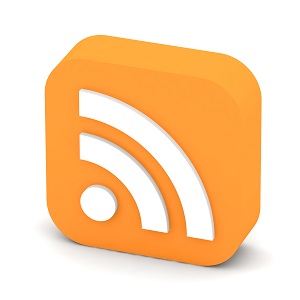 RSS is an acronym that has by popular demand become known as "Really Simple Syndication". Originating from blogging platforms, RSS has spread to other online media to assemble, categorise and distribute content to users interested in the topic area that is being covered. A working definition of RSS is that it is a means to notify you of news updates without using email and can be delivered to your PC or Mac via a web page, email inbox or a PDA.
The fact that RSS does not rely on email to deliver updates, avoids the problems that are associated with spam filters blocking the information from being delivered. I tend to think of an RSS feed as the ticker tape banner that you see running on news broadcasts on the TV.
RSS is important for web writers, due to its effectiveness in broadcasting your work and reaching new and larger audiences, rather than passively waiting for a visitor to happen upon your article or post. The problem with RSS is that for many (including me) it strikes you as being technical and complicated when you first come across it. Truthfully, it is not so complicated that any novice writer with minimal web experience cannot use it and to prove the point, here is a simple five step tutorial on how to set up RSS feed for your work.
Step 1
Find an RSS Newsreader which will manage the RSS feeds you subscribe to. I recommend Newsgator and Bloglines as they are the ones I use and am familiar with, but placing "RSS Newsreader" in your search engine will uncover many more of these "aggregators". Newsgator will integrate with Outlook email software and in this instance the updates are delivered to you by email – I strongly suggest that you set up an email account that is separate from your regular email inbox to receive RSS feeds, and so avoid getting extraneous email cluttering your inbox. So first off, head over to Google or Yahoo and sign up for a free email account. In order to keep this tutorial platform neutral we'll use Bloglines, as it lends itself for use by both PC and Mac users without deviation from the following steps.
Step 2
Install Bloglines on your machine – simple to do and use the RSS email you set up.
Step 3
The web address or url of your content is not the same as the url for the RSS feed – to input an RSS feed url look for the RSS icon and right click on it – that is the RSS feed url, so right click and copy it with your mouse.
The url for an RSS feed will look something like this:
http://www.supaproofread.com/blog/feed/
Paste that url into your Bloglines url dialog box for subscriptions – you need to be sure you have the feed url, so look for "rss2″, ."rdf", ".rss", or "feed" in the url address.
Step 4
For blogs and sites that you wish to subscribe to, finding the RSS feed is quite simple, as the RSS aggregator will usually locate the feed for you. Sometimes it is not so easy and you have to click around to find the url, a good tip is to look in the "Meta" section of a blog or website.
With Bloglines, sign into the service with your email and password information, find the "Easy Subscription Bookmarklet" and install the bookmarklet in your internet browser (simply follow the instructions Bloglines gives you depending on the type and version of web browser you have).
Now you're ready to add sites and blogs to your feed so go to a blog you wish to subscribe to – try this one:
http://www.supaproofread.com/blog/
Once you're there, click on the "Add to Bloglines" icon in your internet browser toolbar – you will be offered options for subscribing to the feed and I suggest you click on the option that ends in .rss and add that to bloglines.
Now scroll to the bottom of the page and click on the "Subscribe" icon – if you don't do this step you will not be signed up and the subscription feed will fail to be delivered.
Step 5
Now you have set up an RSS reader and subscribed to blogs and sites that you are interested in, you need to be able to access the feed and see what updated news and content is being generated. This is simply a matter of going to the "My Feeds" icon in the Bloglines interface and you will be taken to a plain looking page that will contain a date ordered series of excerpts from the sites you've subscribed to. Selecting one of the feed excerpts will take you to the original post and it is as simple as that.
Now you're done – that's all you need to do to sign up for the RSS services, but a question you may have, is how you use RSS for distributing your own work?
Blogging platforms such as Blogger and WordPress have RSS feed tools already built in to the software and it is easy to set up by following the instructions (Blogger has it enabled as a default setting when you set up a blog). For non-blogging RSS distribution, I have previously covered two sites, Zimbio and Squidoo where you can post your content and there are a set of instructions to get your work RSS syndicated – you can find that post here.
No matter what the technical expertise you acquire, there is no substitute for delivering well written and imaginative content in a professional manner. Supaproofread has a wealth of resources for helping writers on any subject and any level produce well-written articles and content no matter how experienced.